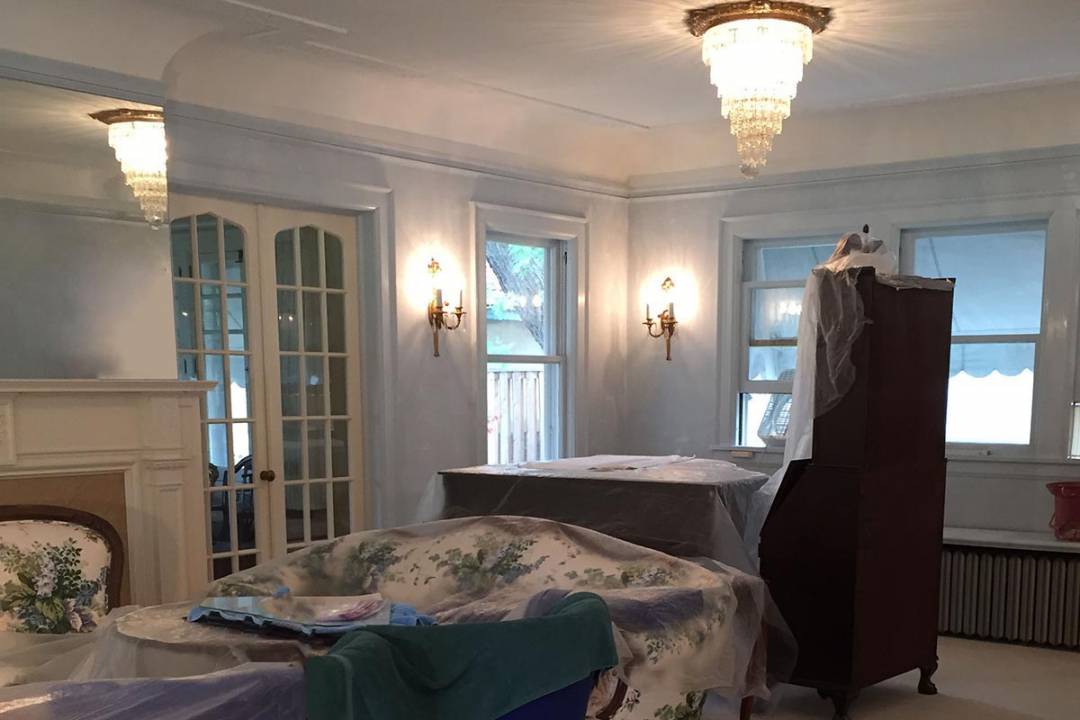 When Pastel Paint Shades Work Best for Interior Color Schemes
Tips on how to create a pastel paint palette for the iInterior of your home.
How you can create beautiful interior walls that make a stunning home statement with pastel color choices.
Pastel color themes are the result of the process of adding varying amounts of white to a color. If you envision the interior of your home painted with the softness of Victorian interiors rife with moody colors and sumptuous feelings of harmony, William Nunn Painting has the expertise to support your choices. We ensure your end result is a cohesive palette throughout your house that fits its architecture and the period it was built in.
How we use color is important to us personally, whether in our homes and or places of work. Some prefer the use of bold paint colors, and sometimes a paint color selection that is slightly more saturated than off-white fits the room's ambiance better. Light pastel paints colors are relaxing and calming to many people. This room with a fireplace uses three Farrow & Ball colors. They also offer Old White, Slipper Satin, and Lime White, all of which work well with pastel colour schemes in their own right.
Soft gray-blue painted walls that are trimmed exquisitely with decorative ceiling molding that is painted white provides simple and well-stated elegance. The subtle application of added accent pastel colors may introduce thoughts of spring, or seashores by using plush towels in a bath or cashmere throws on a living room sofa.
When a Minneapolis Home is Perfect in Pastel Paint Colors
Pastel hues seem to shine from within and embrace the décor of many different cultures.
Pastel paint hues are an ideal color choice when wanting something subtle and yet that ventures beyond the common home interior color schemes of cream and beige. A bedroom room, for example, may be simple, with walls in one color, a ceiling painted with a deeper hue of the same color will spice up a home's sense of style. Another choice is to use a custom paint design with one pale shade on some walls and bolder color versions within the same color family on others. The subtle adaptability of pastel paint shades makes them a beautiful color selection for just about any room and lifestyle.
Not only do different paint colors affect our moods in different ways, but so do the shades within a color family. Let's say that you've decided to use a new mint green ad your favorite color, and it is going to be the main focus in your room. Before investing in the purchase of gallons of mint green paint, consider the effect it will have on the appearance and mood of the room.
Consider the following Color Terms:
The hue of a color is its core color.
Tone is the result of adding more white and/or black to a color.
Tone makes a pure pigment's color more pleasing to the eye.
The value of a color is determined by the amount of white or black in the pigment.
The saturation of a color references its intensity or lack of it in different light, such as bright or dull.
"Shade color" is created when black is added to any hue found on the color wheel. This process darkens the hue and creates a more intense color.
Shades of grays earthy pastel colors are gentle and naturally complement and oak-hued wood finishes." New York Home Interior Designer Ámbar Margarida believes that while pastels aren't pure, the earth tones in the mixing process create a home environment that blends well with a home's exterior.
"We'll see mint greens mixed in with jades and sages and other combinations working off some very grounded mustard tones," she added.
Minimalist Pastels for a Simple and Stylish Statement
Soft color palettes are all about soothing paint shades that successfully create a sense of relaxation in your home. Sometimes call "Minimalist Pastels", these subtle shades have dominated home interiors for so long that they have proven the test of time. Pastels can also play an important role as a foil to bright, bold colors. You can dramatically update the appeal of a room, piece of furniture, or even the exterior of a home with a single coat of paint.
If you favor a Scandinavian style featuring beautiful soft palettes, its minimalist vibes are gentle reminders of clean lines, hazy hues of an early sunrise, and blooming flowers with an uber-modern look; everything about it is a simple and stylish statement.
Home Remodeling Color Palettes Using Pretty Pastel Tones
The shabby chic look has prompted several master bedroom interior design updates that mix and match coordinating pastel shades of paint. With the help of William Nunn's experience, you can embrace new ideas mixing different wall finishes, paint colors and styles from different eras. Painted, stained and distressed woods can be incorporated for a shabby chic bedroom, as well as used on metal and iron surfaces.
Lighter color tones lead themselves to easily add an all-natural look to your home's wall and wood finishes. Our recommendations are tested and will prove to be durable wall finished that add a stunning element of beauty to the rooms we complete.
Many find that stresses from the day simply melt away with a calming color palette using paint updates in lighter colors. We can help you consider color choices from Sherwin-Williams, Fine Paints of Europe, Farrow and Ball, Eve Ashcraft's new line of plaster ideal for pastel paint colors or other lead suppliers. .
You may prefer a classic bedroom with a ravishing with pastel blue ceiling and a subdued golden rod wall paint color that plays with light from your room's lamp and sparkling crystal chandelier. Or use a new coat of paint to reinvent any room with a contemporary feel by installing an unexpected pastel pattern or applying a luxe finish with neutral tones of your favorite paint color.
Pastels play together surprisingly well inside the home, most likely because they appear together without human effort in nature. Consider the light blues that enrich the Mississippi River as it starts and flows through Minnesota, or how our lakes reflect the subtle pinks and corals at sunset on Lake Minnetonka. Your Twin Cities home can use these delicate colors to make any room feel as tranquil as dusk at the end of day. The natural world offers ideal color combinations that work as a dominant home design color scheme.
"Pastel colors have the power to lighten up even the most dense-looking architecture, transforming buildings into dreamy versions of themselves as if seen through an Instagram filter. Intentionally painting a home with a light hue can channel a chromatic mood, while a faded exterior, sun-bleached over time, suggests a carefree approach to architecture." – Architectural Digest
Pastels are the New Neutrals in Home Decor
According to House Beautiful, pastels were a dominant color trend in 2017, and can easily integrate a home's color scheme with a fabulous ombré wall. To gain a stylish edge, try a design that blends sorbet shades with unusual interior detailing. Pastel shades of color may work to give your home's spaces a lift that says it is time to relax and be refreshed. A gentle palette can provide the finishing touches to your home's architecture and design that communicate your style and personality.
These color details differentiate a house and make it a distinctive home. It can be achieved by echoing shades found in an original oil pastel drawing, a tapestry, or other raw materials used in your home. Richly stained woodwork combined with pastel-hued walls can serve as the backdrop for your favorite painting or 19th-century richly upholstered wing chair.
Italian Bark predicts pastels as a top trend in 2019. Italian architect and design blogger Elisabetta Rizzato wrote after attending several European home design fairs and draws pastel inspirations for the home design industry. Her article titled Pastels are the New Neutrals, states, "This return to pastel colors goes together with a new retro flavour with a Seventies twist that is clear in the soft shades and big structures of the latest furniture collection. Metals, like gold and brass, are still confirmed as key materials for accents, together with patterns and textures like the marble and terrazzo ones. But everything comes together in a new whole mood that is softer, brighter, and toned down."
Once more confined to nurseries and homes in tropical regions, pastel colors can be surprisingly versatile and are taking their rightful place in Minnesota's northern homes. Today, it's chic, understated, and popular in grown-up spaces.
"Pastel colors can help give a room in your home a soft, fresh feel and create a calming interior presence. If your home mostly features neutral color shades, such as white, beige, or grey, pastels can give your space a gentle lift." – William Nunn
Enjoy the transformation that newly painted walls, ceilings, and trim can offer your home. Here are several personal references to read that are provided by William Nunn Painting clientele. If you like deep rich tones, read our tips for using rich and dark paint schemes. If you are looking for the perfect color palette to introduce to your Twin Cities home this year, the team at William Nunn Painting is here to help.

Enjoy the transformation that newly painted walls, ceilings and trim can offer your home. Here are several business references to read that are provided by William Nunn Painting clientele.
As experts in home color combinations, we offer a free consultation to help you know when and where pastels and textured paints can beautify your home.
Call 612 825-3875 or simply use our handy Contact Form.
Designed and written by Hill Web Marketing