Minneapolis Exterior Painting Contractor – William Nunn Painting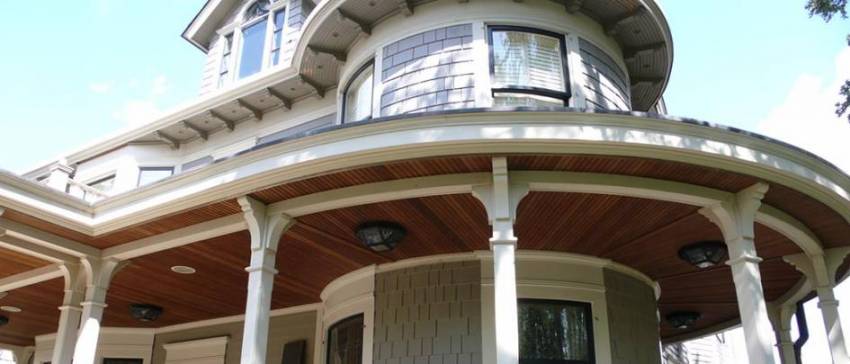 William Nunn Painting provides precision exterior painting services that we have developed over our 45 years of operation.
Our work will significantly contribute to keeping your home or place of business looking beautiful; our exterior painting protects your home and the value of your property.
Anyone attempting to maintain a building exterior in Minnesota's climate deserves special recognition. Our hot summers and very cold winters give us a real challenge in finding materials and methods that will endure." – Bill Nunn
Minneapolis Exterior Painting – From the Front Door to a Complete Home's Exterior
The painters who work with William Nunn are a select group of craftsmen who take pride in their work, and have demonstrated their expertise, creativity, and reliability in a wide range of situations. Bill stays personally involved with each project to make sure the customer's needs are met and communication and quality standards are upheld. We handle projects of all sizes, from refinishing your front door to a complete exterior or groups of exteriors as the case may be.
We begin by meeting with you to discuss just what is needed, listening to what your objectives for the property are, and then developing a set of recommendations and pricing. Our proposal may include carpentry or other repair work and assistance with selecting a color or a design direction, and recommendations about the types of materials to be used, all tailored to your needs. There is no cost for our proposal.
Our careful preparation enables us to create a perfectly pristine surface that a quality painted finish requires. This has helped William Nunn Painting develop an artistry that few can match. We use a combination of traditional hand tools along with specialized tools, dust-free, and lead-safe practices while doing these very important tasks.
The Factors that Determine Price In Minneapolis Exterior Painting
The time and effort spent on preparing a house for painting represent the single largest variable in calculating the cost of a paint job. This is because labor is precious and expensive for a contractor to bring to a job, and there is always a need to look for ways to limit that cost. So achieving a good balance between the need to dwell long enough in preparatory tasks, using safe operating procedures, and utilizing time-honored techniques in the application of materials can render quite a broad range of pricing for a consumer to make sense of when getting estimates for painting work. There also can be broad differences in the wages that are paid, or that craftsmen can command in the labor force.
Concerning the materials used in painting, it is useful to bear in mind that the actual difference in cost between superior paints and primers and the budget-priced counterparts is a very small percentage of the total cost of work, yet the additional performance, longevity, and beauty of the finish gained by using the best material can multiply all efforts.
Protect Your Home's Exterior with Our Ongoing Maintenance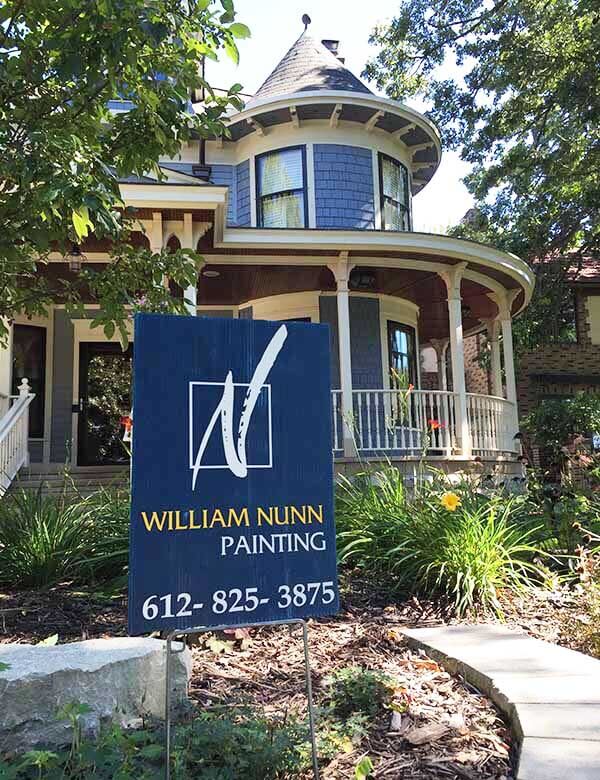 After your project is completed, William Nunn Painting offers a maintenance program, to support the work we do for you, which can save time and money and keep your home or place of business looking fresh year after year. We will keep in touch with you to see how our work is standing the test of time and weather and make repairs to those areas of a building that are subject to the most use and wear and tear.
We have been privileged to remain close to the families and businesses we have served over the years in part because of our follow-up and the two-way communications that are established with our customers. We are privileged to work on many exceptional and historical buildings in the Twin Cities – like our painting work at the 510 Groveland, Minneapolis building. Check out its stunning front entry after we painted the porte-cochere.
William Nunn Painting has a deep portfolio showcasing completed exterior projects in the Twin Cities and suburbs of Minneapolis and St. Paul from our work over the past 39 years, and we invite you to peruse some of our photos and references.
Suggested Reading

If you are seeking to have a deck refinished or wood garage doors stained and protected, view our woodfinishing gallery.

William Nunn Painting is a member of the Better Business Bureau and was nominated for their Integrity Award in 2008.