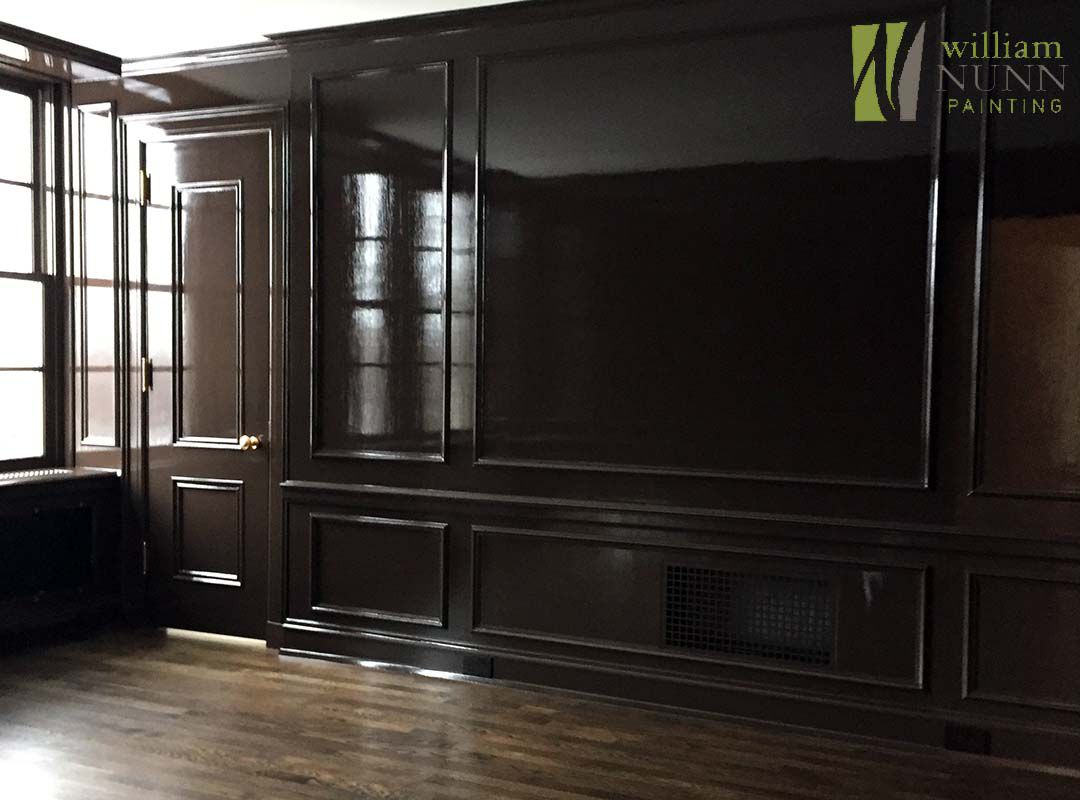 How to Use Rich Paint Colors to Beautify your Minneapolis Home
The use of rich deep paint color in a room depends much on the room and its intended use. Rich bold colors can be used as an ideal contrast for an existing home décor.
All four images on this page are Fine Paints of Europe Hollandlac Brilliant paint, which is a high gloss paint from Holland. A home can feel sophisticated when grounded with dark wood floors and the right use of rich colors with the correct type of paint solutions. Bold paint color choices can be elusive and enigmatic, a master of creating a home's ambiance. William Nunn Painting's expertise can leave your home with a color-confident statement that is either French or English-inspired, provocative, poetic, energetic, harmonious, earthy, or suggests a place of respite. Simply put: rich colors can suggest the personality and uniqueness of your home.
5 WAYS TO EFFECTIVELY USE RICH DEEP PAINT COLORS IN YOUR HOME
A rich paint color is a strong and graphic statement that establishes a home's ambiance. Its magical ability merits a close look at what it can do for your home.
1. Dark Wall Color as a Backdrop for Key Design Elements
Using a dark wall color can be an ideal way to highlight the other design elements in the room. Identify your room's focal point and then engage wall color techniques to set the stage. For example, a deep chestnut brown painted wall can create the perfect interior wall backdrop to showcase your favorite pieces of art. A deep navy color may make a fireplace in a Minneapolis lakefront home more inviting for a cozy place to entertain friends and unwind. Dark tones work well to highlight architectural features; in this room, the exceptional finishes on fine cabinets, molding and paneled wall trim.
Higher-gloss paint finishes also help brighten dark spaces and bring life to them. A combination of semi-gloss sheen and rich-colored paint is an optimal wall treatment. The wrong color choice or application could mean a do-over that could end up costing you twice as much. The darker and richer your paint color is, the more colorant it contains and is an indication of the refinement of the paint. The depth of the pigments is an indication of the paint quality. These Dutch-made paints from Fine Paints of Europe have a very finely ground pigment in order to achieve the depth of color you see.
This Fine Paints of Europe Hollandlac Brilliant paint color shows off the bathroom's fixtures, lighting, flooring and paneling details. This peacock blue color on the walls brings the room together in a stunning and exceptional manner that a more tame color simply couldn't accomplish. You could bathe every wall surface, cabinet, and trim — in high-gloss rich paint color to turn a bathroom into a lustrous jewel box.
Since bathrooms are self-contained, and often viewed as more of a utility space, some people don't spend a great deal of time creating design features of interest for them. However, daring and rich paint color can be a way to surprise and delight a guest. They are an excellent space to try something a bit more on the daring side.
2. How Deep Paint Colors Can Lead the Eye
Consider a deep neutral tone to lead the eye to your brightly colored home accessories or furnishing. Wall and floor color can invite visitor foot traffic towards a dramatic and inviting red or burnt orange patterned couch. A visitor is more likely to be distracted from the utility aspects of a room when color appeals to the senses and invites them to focus on its visually appealing features.
Selecting appropriate colors of paint can lead your eye into and through the composition of your home and provide interest and a personal statement of taste and luxury. Whether using a light interior paint color or a rich one, we help clients present compelling living spaces. As an art appreciator, together we can examine the lines, permanent color schemes, space, light, positioning, and the roles of each room in your home when thinking about how they will "work" together for a final effect. Both light and rich dark paint colors can be used to their best advantage to enrich your home's interior design.
When paired with black and white or fine chrome accessories, a robust and polished color like this enlivens a minimalist-sized bath. You can't miss the pleasure of a finely crafted shelf or towel rod when its backdrop is so stunning. We know how to use deep, saturated hues effectively and can help you achieve the same effect in your home.
3. Make a Room's Ceiling More Architecturally Interesting with Color
The ceiling is a huge surface in a room, yet its color is often skipped as a conscious design choice and its impact on people. Although it's tempting to forget, miss its impact, or spend extra effort here – committing to color on your ceilings transforms a room when done well. Painting a room's ceiling the same deep color as the rest of the room creates a rich and full atmosphere that offers a sense of completeness.
High ceilings are ideal in many spaces. But in some cases, they may make spaces feel colder and less sheltering. Use of color on the ceiling is important to balance the values in a room and eliminate the distraction that a white ceiling often imposes on the eye. A good ceiling color will add architectural interest to a surface where none previously existed and makes spaces feel far more interesting.
Deep colors like these are very effective when used on a ceiling also, carrying the color and reflectance a step further to show off lighting fixtures and ceiling trim details. A richly painted ceiling can call attention to something you want to emphasize or instill a touch of drama. Darker ceilings lead the eye to light or a lightly lit area. In a bathroom, like this one, a person's eye will more quickly focus on its fun light fixtures and well-chosen white marbled sink.
Another variation is to alter the ceiling color by several shades darker or lighter than the walls. It achieves the same soothing feel of a unified space with a touch of more depth, detail, and dimension. When seeking a cozier atmosphere, a slightly darker shade on the ceiling than the walls will make it seem lower and the room more intimate. It's perfect for a bedroom or bathroom where you or guests wish to unwind and linger.
4. How Deep Interior Home Colors Intact with Lighting
Consider your lighting plan before introducing vibrant colors to your interior walls. There are many excellent paint color resources, like those available from Benjamin Moore and Fine Paints of Europe that offer some of the best color tone for rich dark paint choices. Lighting can play off a painted sheen finish and be a huge player in the beauty of a room painted in dark colors.
Unexpected in more traditional home designs, a posh color ups the impact of both a room's natural window light and that gained from light fixtures. A room with track lighting or one with shimmery pillows will find that a rich paint color echoes their illuminative qualities.
5. How Deep Paint Color Highlights Textures
If your personality is best expressed in a bold color, a palette of aged paint colors creates a deep, beautiful interior home. When interior walls are painted a deep brown, for example, other colors or patterns can easily make their own design statement. Aged woods, woven rattans, rich velvets, and light-reflecting crystals all turn up the depth, dimension, and contrast in a color-saturated space.
Showstopping colors can make smooth tan leathers, reindeer furry throws, brass lamps, and natural linen upholstered furniture speak loud and clear of personal refinement and taste.
To achieve a fun, yet understated "wallpaper" effect, sometimes we paint one fearless shade atop another one. Different paint finishes as well can do much to deepen the color of your walls.
"Dark walls can help tie together pieces from different eras, giving the whole room a look that's cohesive and up-to-date. Dark walls can help tie together pieces from different eras, giving the whole room a look that's cohesive and up-to-date. Go bold with unconventional ideas that go beyond the pale." – Country Living
It can be inspiring to use rich dark colors.
Get the Look that Rich Dark Paint Colors Offer
Evolving technology in color techniques is inspiring rooms painted from a selection of deep sea navy's, a dark red-bodied berry color, rich dark chocolate, or one of the intensely powerful charcoal grays — all colors many homeowners have typically shied away from because of uncertainty in how to use them effectively. Today, more creative, social lifestyles are prompting many homeowners to drawn from the confident palettes of rich colors that are available or that can be created. A room can captivate and command special attention simply by using a bold paint color on its walls.
Homes that favor earthy natural components continue to emerge, representing simplicity, and a choice to bring the outdoors inside. For example, a deep, plum-black paint color can provide the influence and harmony in a home's interior décor that makes its splashes of brightly colored furnishings seem to take root and look natural.
The expanding use of rich dark paint choices may be credited to our widening connections that are bringing stunning colors inspired by other nations and cultures. Thanks to our ever-evolving global communications and increasing connections, there will be an increase in the visible color palettes found in Europe, Cuba, African and Middle Eastern countries. Many a home overseas has long favored interior décor rich with the character of bold dark colors.
"Very often, the owners of mid-century homes think the way to bring their house into the 21st century is to paint everything in shades of beige and taupe: all this does is make the spaces feel small and bland, rather than rich and expressive. Don't do it!" – Houzz
In curating the color palette of your next home renovation, we can partner with you during the consideration of saturated deep color tones, the pairing of colors used in your home, and the relationships between color families, as well as help you gain a newfound level of color confidence. The deeper hues more often used by interior home design professionals and many savvy consumers can be yours as well.
If this article has inspired you to rethink about your white walls, Please contact William Nunn Painting Ltd by email or phone: 612-825-3875. We have 43 years of success as Minneapolis Professional Interior Home Painters.

Ready to take your first big leap with dark bold color? We offer residential and commercial painting services for any project. View more photos of William Nunn's painting experience.