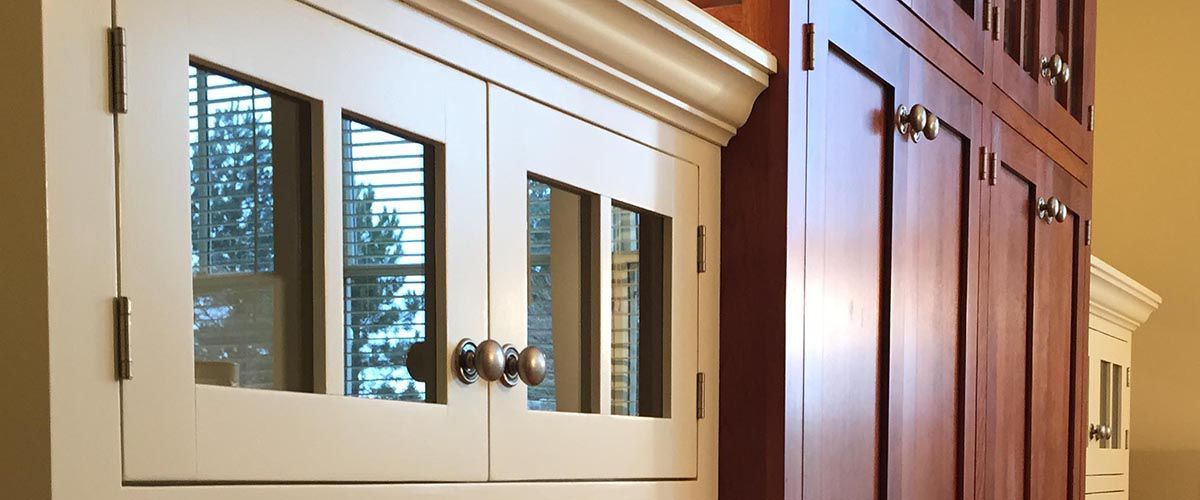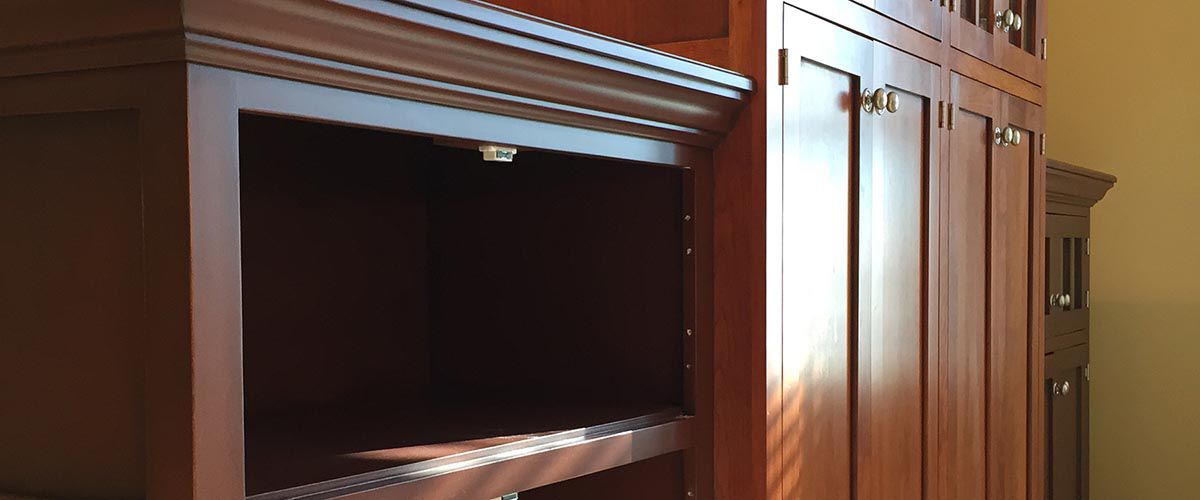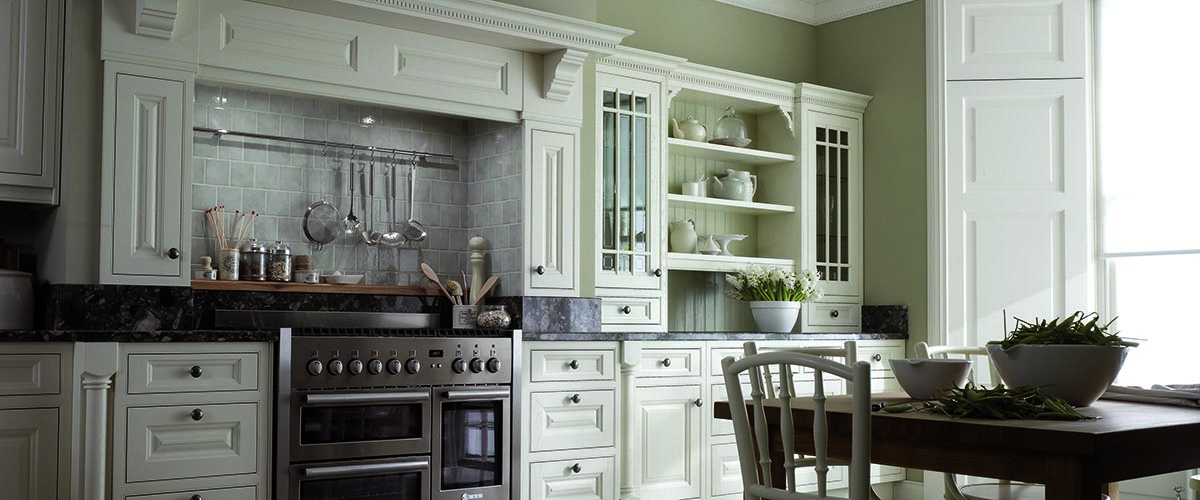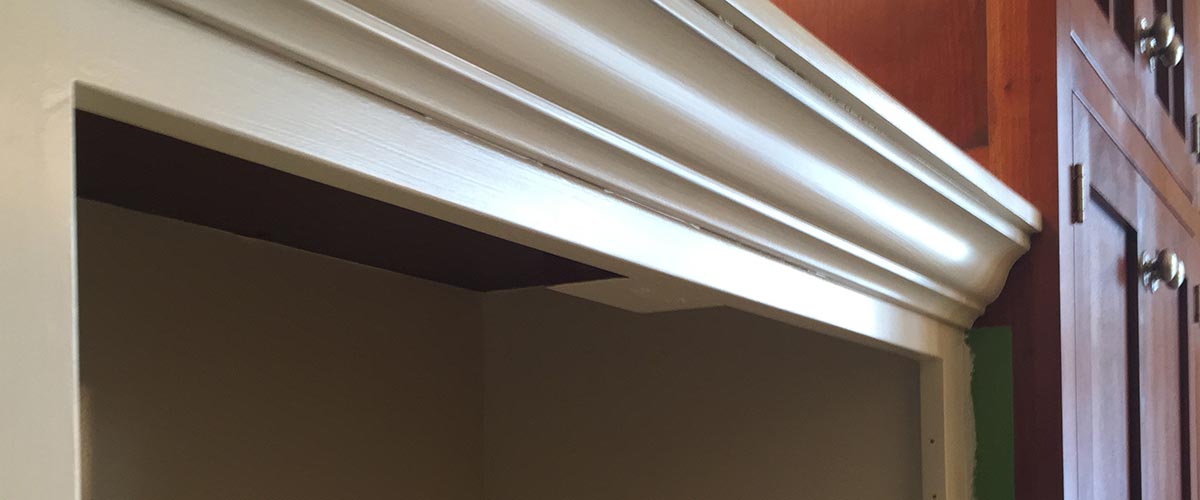 Painting Kitchen Cabinets for Fine Minneapolis Homes
The skilled process of preparing kitchen cabinets for refinishing
Newly painted kitchen cabinets update a kitchen on a budget
Tapping and prepping kitchen cabinets for painting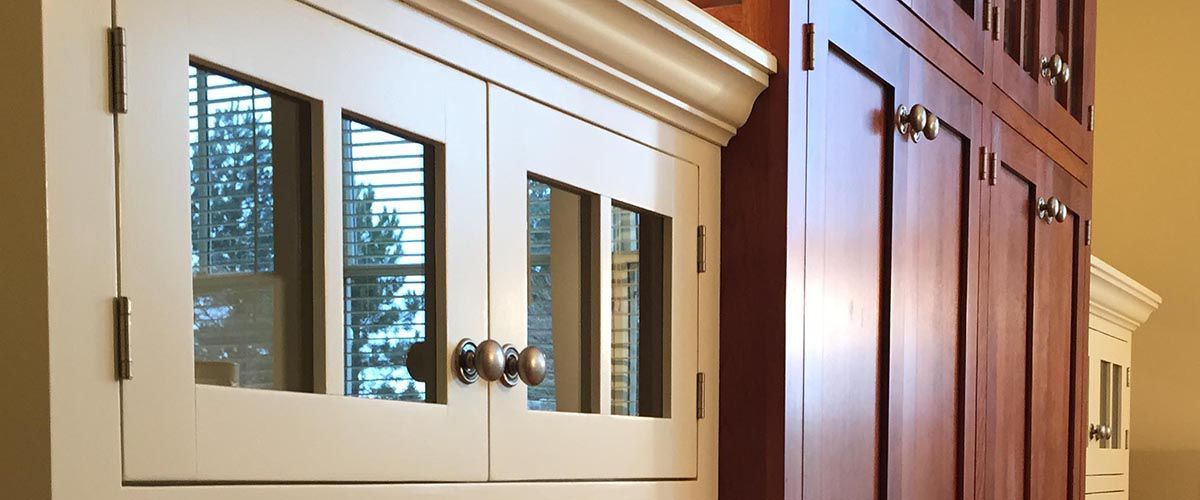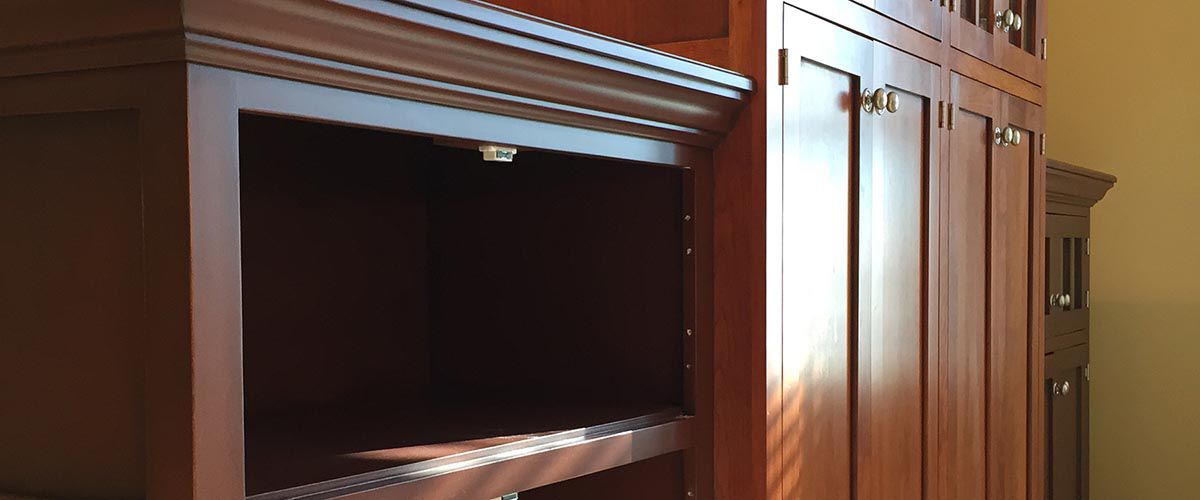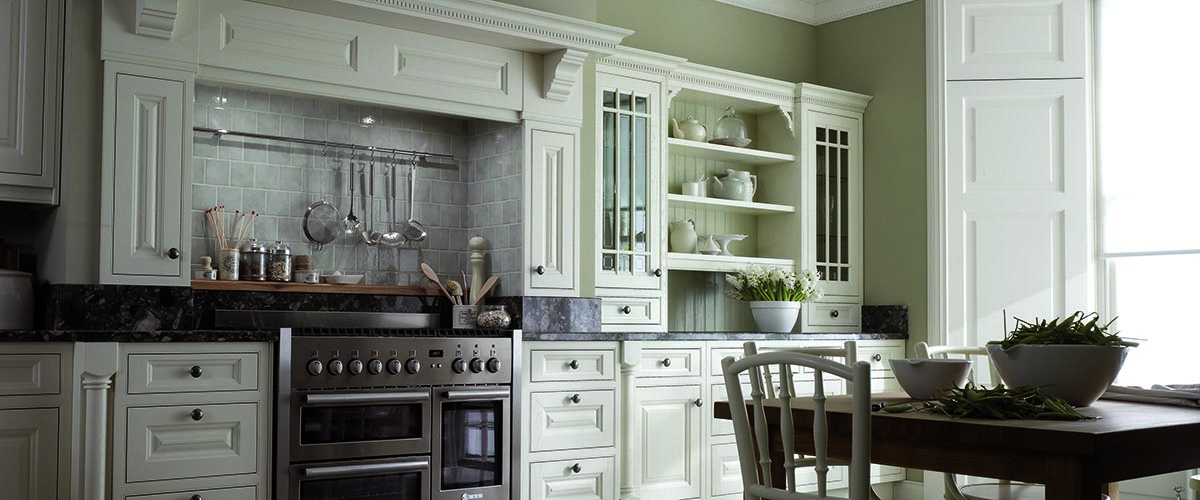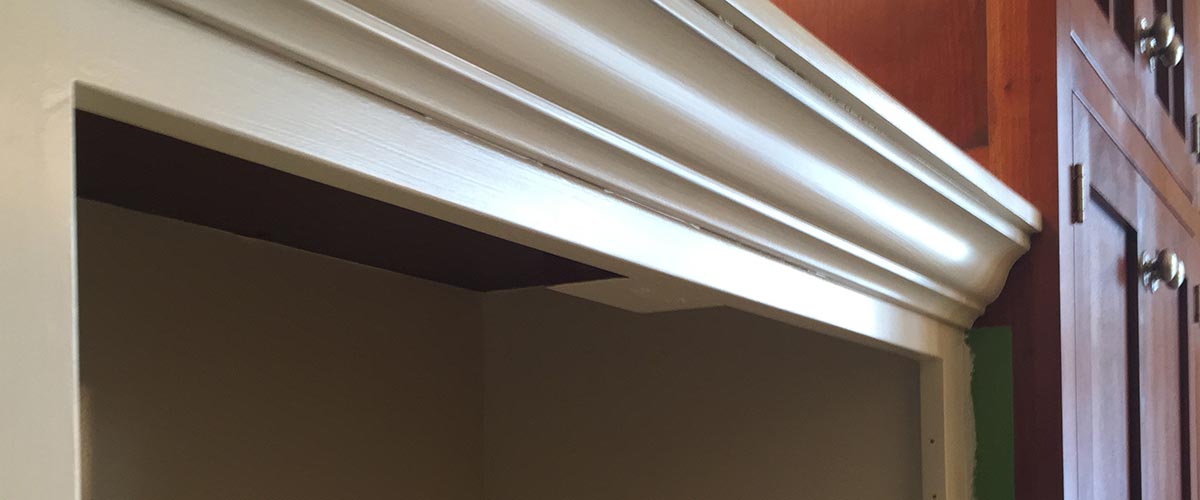 Painting Kitchen Cabinets Services for Fine Minneapolis Homes
A new coat of paint can transform your kitchen cabinets to look like new again. Thorough preparation is the key to stunning painted kitchen cabinets. Paint your kitchen cabinets with Minneapolis and St. Paul's home restoration experts.
By using quality paint and new hardware, and careful workmanship, you can in many cases restore your existing kitchen cabinets instead of replacing them. The craftsmen at William Nunn have extensive experience partnering with homeowners who are looking for a solution for their kitchen cabinets. In many cases, refinishing existing cabinets can be an interior painting project that is superior to and costs less than fitting new. View examples of Twin Cities interior wall finishes by William Nunn Painting.
The Process of Painting Kitchen Cabinets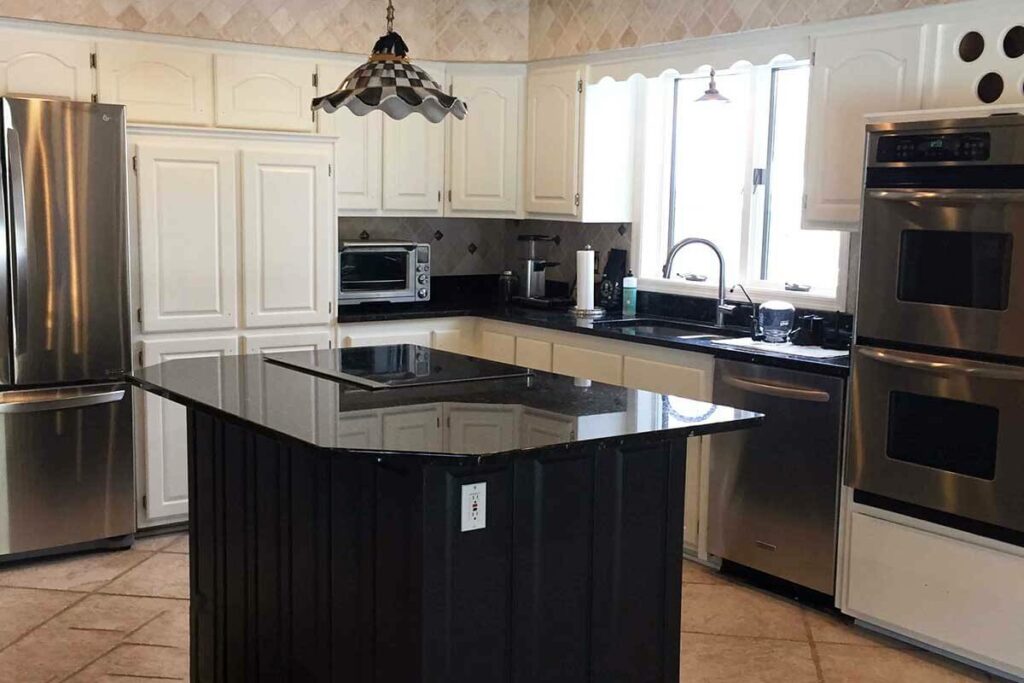 Our process involves:
1. Helping you decide on color and paint type to create the look and feel that you are seeking. This design work can mean a great deal in achieving the final results. Depending on your goals and personal tastes, you may want to review ideas that showcase using a rich, dark color scheme versus a light or pastel color palette.
2. We next look for repairs that may be needed to drawer glides, door fit, hinges, shelves, toe kicks, and other parts that have seen wear and tear. Our craftsmen are adept at identifying the numerous problems and correcting them, using a full range of tools designed for woodworking and cabinetry.
3. Once all is working as it is designed to do, we can undertake the preparations for painting.
The Painting of Cabinets by Sprayer
Application of the paint by sprayer is an excellent way to get a smooth and even finish which adds a degree of efficiency to the work in many cases. We favor air-assisted airless and airless spray equipment to apply the paint when a sprayed finish is called for. Thorough and complete masking and covering of the room is essential to undertake this work.
The Paint Brush Advantage
Alternately, many times a brushed application will yield a beautiful result, and many of the best cabinet makers in the business today employ this approach. View the stunning effects of our brush-applied paint upgrade to this exceptional freestanding kitchen cabinet.
A brush-painted surface imparts a handcrafted appearance to woodwork, and also allows a thicker coat of paint to be laid down. Modern paints, even the waterborne ones are superior in their ability to level out before drying, leaving a slight hint of the brush, regarded as a hallmark of good craftsmanship.
The advantages of a brush-painted surface are several, beginning with the relatively simple preparations that are needed. Instead of spending time on extensive masking, covering, and protecting the floors and furnishings required for spraying paint, one can focus more on covering and protecting the immediate work areas. Covering the floor, masking the edges, and hardware removal are usually all that are needed to protect the room during this process.
Of course, all the surfaces being prepared are washed, sanded, and primed with the appropriate primers and undercoats; holes, gaps, and flaws are filled, and each coat is sanded, vacuumed, and tacked before moving on to the next step.
How do you Handle Open Wood Grain?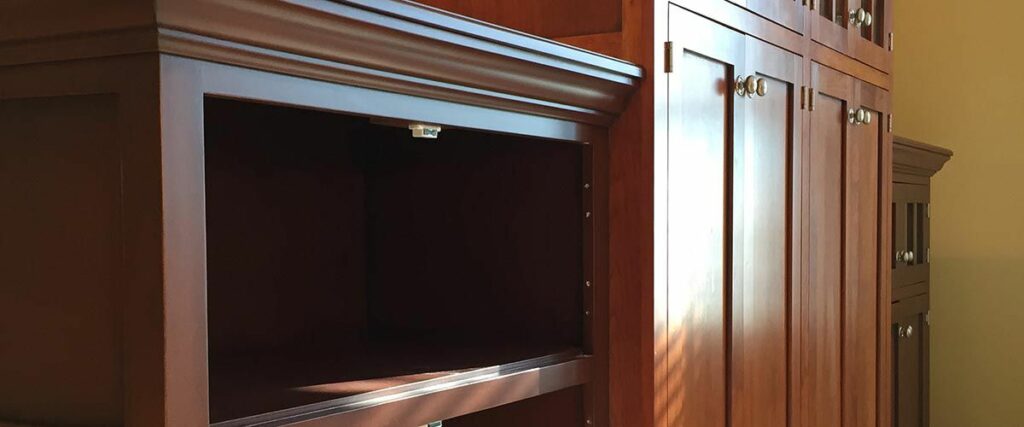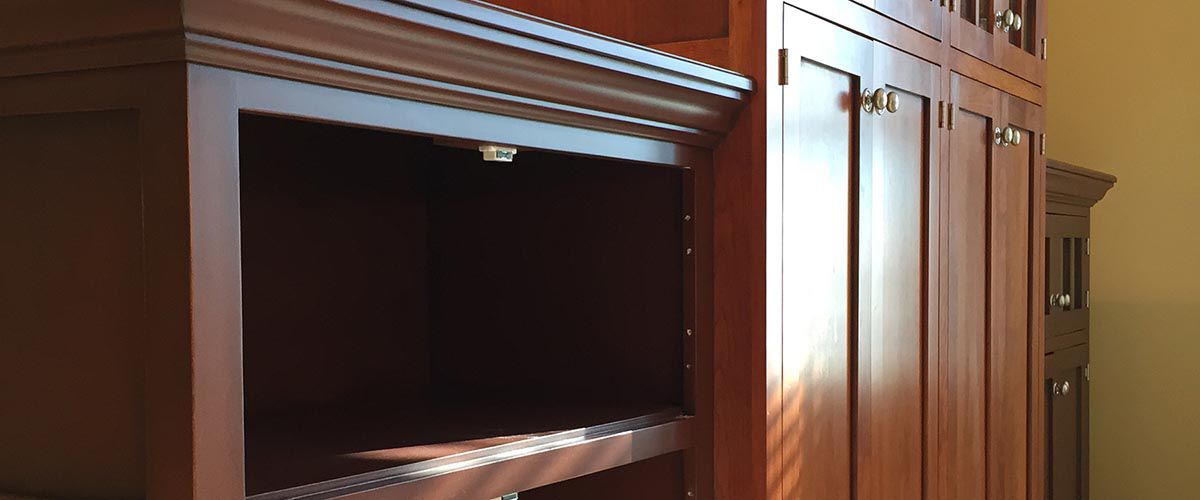 If you have cabinets made from open-grained wood such as oak, it is important to bear in mind that even with new paint, there will still be some of that grain apparent in the painted surface. This open grain is usually diminished somewhat as primer and paint coats are applied, sanded, and built up, but the grain will still be visible to some extent. If you desire to have a finished surface that is completely free of the open grain, this can be accomplished with the use of special fillers. Some additional time and cost are involved in doing this, but the results that can be achieved by filling wood and sanding smooth before painting are quite impressive, and can set the work apart from all others.
At William Nunn Painting Ltd. we use a highly efficient HEPA dust extractor during our work. A machine certified to remove 99.97 % of particles down to .3 microns, a very high standard; this equipment removes loose dirt and sanding dust from the prepared cabinets and immediate area, without expelling any of that dust back into the room. Quiet and efficient, these tools are part of an integrated system we use to prepare surfaces, and ensure a clean work environment.
A Recent Project Renovating a Master Bath Included Painting Bathroom Cabinets.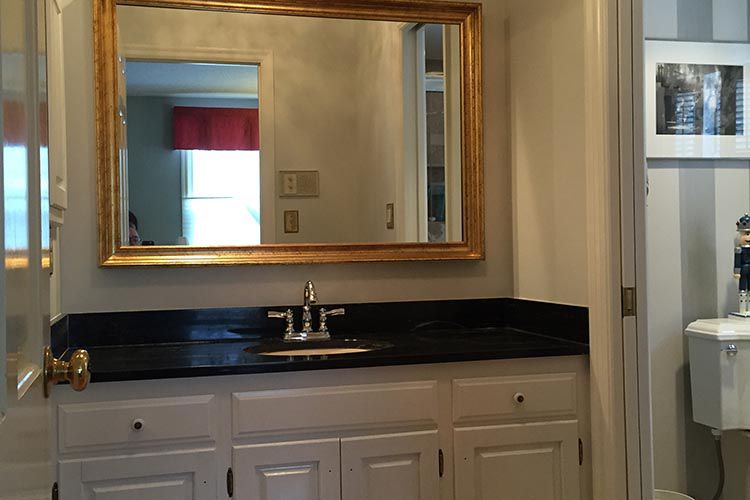 A Smart bathroom upgrade and adding stripes to the walls transformed this Minnetonka master bathroom. In this master bathroom/closet/shower area in a home built in 1969, our esteemed client did a wonderful cost-effective improvement by adding a new shower and marble tile with new glass doors, a new marble tile floor in the shower area, and beautiful paintwork.
The simplicity and functionality of this ranch-style master bath were retained and enhanced through preservation of the original assets the room already possessed, including a solid vanity and countertop, doors and trim, an oak floor, and even the window shutters. The most difficult choice our client faced was deciding which wallpaper to use. With the choice narrowed to a broad stripe, we solved her dilemma using painted stripes to the walls instead. By alternating china white and silver/gray colors, it beautifully complements the new marble tile. A faint copper wash added over the silver-gray stripes can only be seen in the angular light.
Cabinets and doors were enameled in satin finish oil paint from Benjamin Moore, the hardware was cleaned and reinstalled, and the main bath walls were painted using Fine Paints of Europe Eurolux Matte finish waterborne paint in "Chalk" by Eve Ashcraft, which ties to the silver stripes as a very pale warm gray.
Update Your Existing Kitchen Cabinets With Paint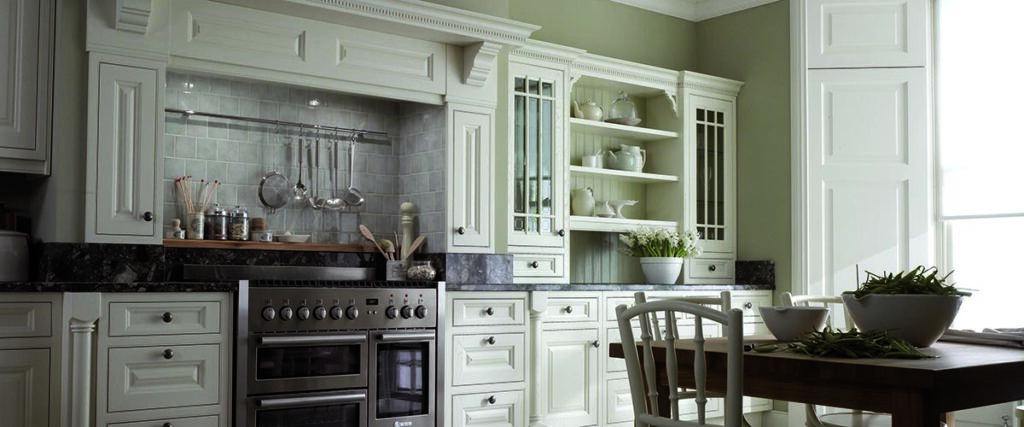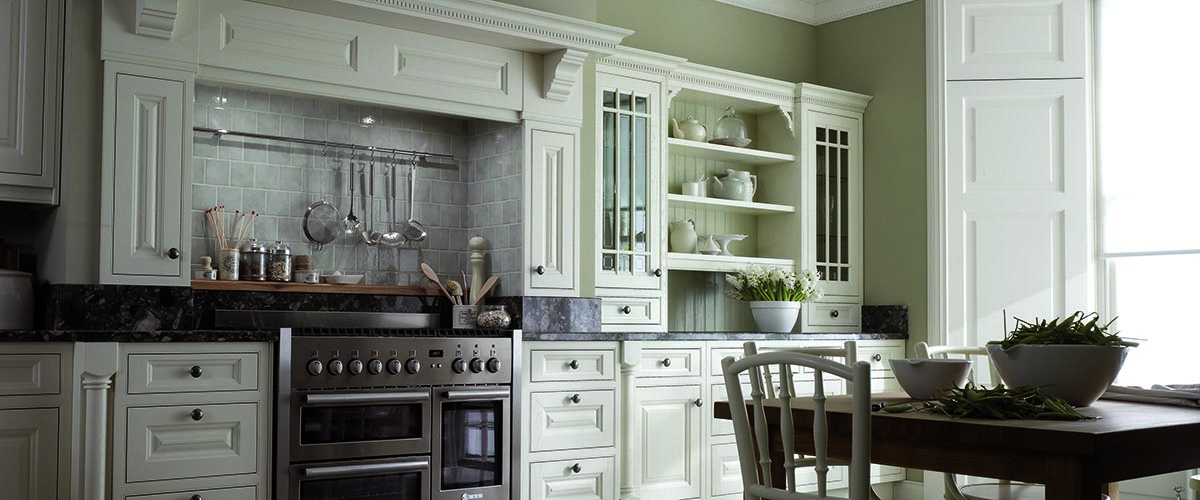 We offer guidance as you explore your options for painting kitchen cabinets.
View our photo gallery to see more of our completed work.
"Finished cabinetry and woodwork elevate a room to a new level." – Bill Nunn

William Nunn Painting is a member of the Better Business Bureau and was nominated for their Integrity Award in 2008.