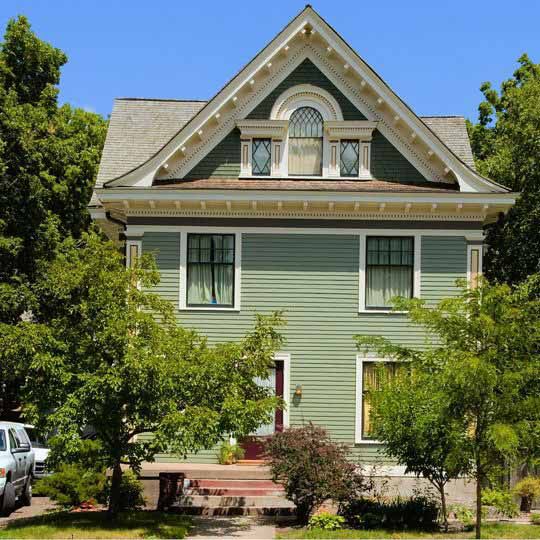 Minneapolis Victorian Home Painting Contractors
It is a joy to discovr beautiful wood siding under old paint on Minneapolis victorian houses
If you have recently purchased a historic Victorian home, perhaps on Summit Avenue in St. Paul, MN, you may be learning just how to restore and protect its original structure. Since water vapor can't get through the vinyl siding that someone may have added, that moisture collects on the wood underneath. Unless caught in a timely manner, it may generate additional damage. Aluminum siding can actually be one enemy of older houses of value.
Once your home's exterior is protected, includidng all wood window frames, from nature's elements, we can help you update your home's interior wall surfaces. We love what we do and seeing how a home can be transformed and newed to showcase its former glory.
Overcoming Obstacles and Restoring Your Victorian Home
When considering how to care for your home to protect its value, you may be pleased to learn that that original wood siding is simply far superior as often historic materials are. We have even discovered an aluminum-sided house that covered up exceptional exterior brick walls! You may be the next homeowner to have the thrilling discovery of a natural material on your home that is unequal to a newer product t on the market.
"The problem with siding is simple. It's outside! It gets rained on, snowed on, tortured by hail and sleet, and the sun is constantly beating down on it and baking its protective layer of paint off day by day. It's no wonder that folks look to "solutions" like vinyl or aluminum siding to "protect" their home's exterior. The problem is that they cause more problems than they solve," states The The Craftmans Blog.
"And one last parting thought about historic materials…They're not good because they're old, they're old because they're good!" – The Craftmans Blog
We can help you skip making any common mistakes other Historic Homeowners have unwittingly made. Your home is worth protecting with a professional paint job!
Fully Restored and Painted Victorian Home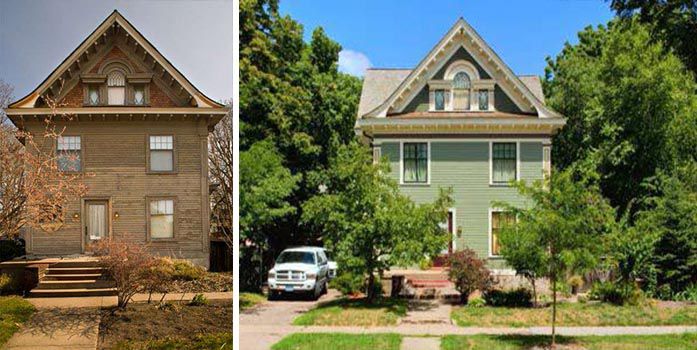 Before and After: William Nunn exterior painting contractors begin with a close inspection of this Minneapolis Victorian home, checking all of the home's skirting and drip sills all the way around the house. We helped the homeowners determine just which windows, doors, and original hardware needs to be replicated and replaced. It was determined that the home's historical value was well worth preserving and therefore began a good bit of preparation, woodworking, and careful color selection before applying the home's fresh new coats of paint. Some new window glass was immediately ordered for the transformation of some of the home's windows. Additionally, the homeowners chose to add new period light fixtures to light the home's entrance and showcase their beautifully painted home.
After the restoration of this Victorian home to its original 19th-century elegance, the home is protected for years to come. The front of the house now is both inviting to guests and pleases its proud owners. The design satisfied historical requirements with its attention to authentic detail and materials, blending the present in the restoration of this property to its original 19th-century elegance.
Using the right paint is very important. A top paint product, like Fine Paints Of Europe, preserves the home for years to come and adds significantly to the number of years the homeowners can expect to enjoy their investment in painting their home's exterior.
Victorian House Was Caked With Old Paint & Needed Exterior Painting Work
The carvings on this Victorian home were caked with paint which needed to be scraped out by hand with methods that protect the wood as we proceed. Much of the home's exterior paintwork was cracked, peeling, or had otherwise aged to the point that required repairing by filled and sanded prep work. Tiny pencil-sized molding around the perimeter of some windows needed replacing, as we prepared to restore and paint window brackets, scrollwork, and door frames. After restoring this Victorian home's paint work of all damage, that included scrape, wood fill, sand, prime, and paint two coats of paint in multiple colors, the homeowners were super pleased.
We would like to think this Victorian home will be here for generations to come. The immediate response from the neighborhood was overwhelmingly positive, as everyone seemed to appreciate the increased value to the neighborhood and shared the pride of honoring the historic value of such quality-built Victorian homes.
Painting a Minneapolis Home Rich with Victorian Architecture
Victorian architecture marks a unique variation from the symmetry of early American home architecture. We can help you highlight the stunning detailed ornamentation of your home by using a color palette ideal for a Victorian home. A rich, diverse color scheme can showcase the elegances of intricate features. Dark yet vivid colors became more popular in later Victorian homes; lighter colors were typical choices in the early part of the Victorian era.
William Nunn's experience painting historical Minneapolis homes have led to a love and sense of style that fits that era. In the process of painting your home's exterior, we can help you as you consider the fixed features and surrounding environment so it comes together beautifully.
We offer guidance as clients make choices to combine new colors, new exterior textures, type of paint choices, eco friendly, and the best applications to seamlessly blend your home's original character and a rich charm that fits today.
We have worked hard to become know as a premier Minneapolis Victorian home painting contractor. Read to better understand the intricacies of painting a Victorian home.
If you are wanting to protect your historic home, call 612 825-3875. It will be our pleasure to talk to you.

William Nunn Painting is a member of the Better Business Bureau and was nominated for their Integrity Award in 2008.