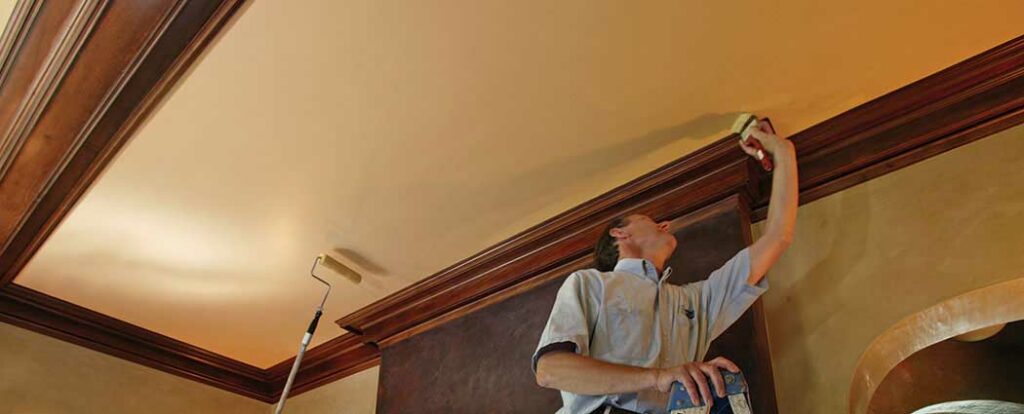 William Nunn Contractors Painting a Lake of the Isles Minneapolis Home Ceiling from Prep to Finish
A Minneapolis home ceiling that needed a new coat of paint and loving care of its trim and the room's furnishings during the painting process.
Painting is one of the simplest, most effective, and most affordable ways to add character and style to your home. Painting protects your Minneapolis home from its normal aging process, from painting ceiling to staining floors, we transform rooms in homes from top to bottom. With a mere handful of simple tools, a small investment of time and resources, your interior ceiling painting project that rests in skilled hands can be a stunning home transformation. To gain a top-quality painted ceiling job, we typically use a roller to paint instead of paint sprayers.
Click here to view a ceiling painted in a deep high-gloss paint finish.
Help Choosing the Right Color To Paint Your Ceiling
Finding the best paint color for your ceiling may be your biggest decision to move your ceiling project forward. You may be accustomed to white ceilings and want them to just blend in without commanding attention. Or you may prefer painting your ceiling a contrasting color shade to craft a statement about your home's character or personal home design preferences. Our consultive advice has proven to be of high value in the shaping of many homeowner's painting color decisions.
Additionally, William Nunn Minneapolis painters know just how much drying time is needed while painting your ceiling given the room's temperature, type of primer, and the type of paint chosen for your paint application once the shade of color is made. We cover all the details – that you may not think of – to ensure your satisfaction and pleasure upon completion.

Other Professional Tips from William Nunn as Published in the Handyman Magazine
Use a Stain-Blocking Primer to Cover Flaws: Roof leaks, overflowing sinks, tobacco smoke, and big spills can all leave ugly ceiling stains or dinginess that is impossible to conceal with plain old paint. But cover the stain with a coat of stain-blocking primer and your troubles are over.
The traditional favorite is white pigmented shellac. You can buy spray cans of pigmented shellac, but usually, it's easier to brush it on. Just don't forget to pick up some ammonia or denatured alcohol to clean your brush. If you're painting over a ceiling that's yellow from smoke, roll a coat of shellac over the entire ceiling before painting with latex.
Sand Before You Paint: Over time, and as the layers of paint build up, bumps and crud can get stuck to the ceiling. On untextured ceilings, it's a good idea to start with a quick once-over sanding with 100-grit drywall sanding paper. This helps ensure a perfectly smooth paint job and increases paint bonding. The easiest way to do this is with a sanding pole. When you're done sanding, wipe the ceiling with a damp sponge to remove the dust.
Read the full article at familyhandyman.com.
Project Details When Painting A Minneapolis Ceiling
When painting a large ceiling section, it is important to avoid leaving lap marks. Our team is experienced in just the right handle pressure and technique to roll the nearly dry roller in different directions along the dry edge, feathering out the paint as we proceed. After completing one full length of the wall or ceiling, we progress to the next section and paint over the feathered edges. Most often we then apply the second coat of paint in the opposite direction. This crisscrossing paint application process typically eliminates lap marks.
We will take care of: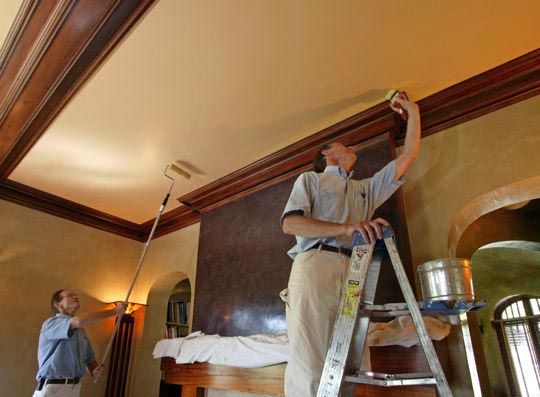 Measure the rooms height, width, and depth.
Determining how much paint is needed.
Covering the floor with plastic and taping to prevent paint getting under the plastic onto the floor.
Thoughtful protection of your room's furnishing while we are completing the Twin Cities interior home painting project.
Ensuring any new paint shades won't have the old color bleed through.
Sealing up any left over cans of paint properly in-case you need to do touch ups later.
Everything else that ensures your satisfaction with painting your home's ceilings.
Contact William Nunn Painting by calling 612 825-3875 to schedule a consultation.