Deciding To Restore A Historic Door & It's Hardware?
We know the secrets to preserving your antique door and it's hardware!
Stunning, hand-crafted antique doorknobs, locks, strikes, and hinges can be reclaimed and give a historic Victorian house a special flair. Naturally, they have to work in the end. Exterior doors need the critical function of opening, closing, and locking efficiently. William Nunn Painting contractors have the experience and passion to ensure that your vintage door lock and hardware are in excellent working condition.
It's actually not a secret; it just takes know-how. After 47 years of servicing historic homes in Minneapolis and St. Paul, we are proud to offer this service. We developed our out restoration processes for preparing surfaces for refinishing and/or painting.
Before: Twin Cities homeowners, who are considering several options for restoring the hardware on the doors of their historic homes, value the expertise of a restoration and painting expert. William Nunn Painting's experience restoring painted approsettes, both vintage, and reproduction, helps make better-informed decisions. Over the years we have found that many of the reproduction patterns for door hardware aren't as crisp as the originals. When restored properly, the beauty of the home's original hardware is hard to beat. Exterior home painting that protects the original hardware of an historic door is one of our specialties.
Finding Quality Door Hardware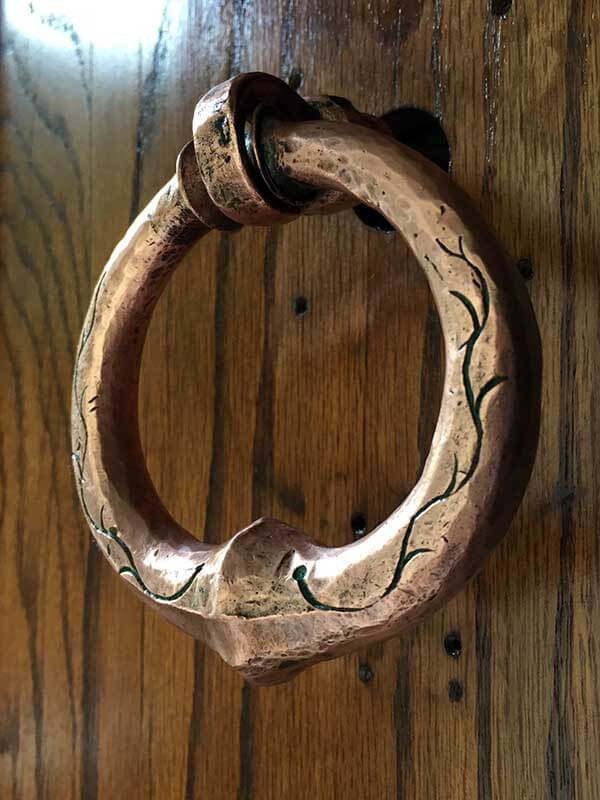 Our standard is to match the quality and hardware types that went into the original construction of your home. We often help homeowners find antique Victorian entry locksets, Victorian mail slots, and other antique door and window hardware, if some components need replacing. We generally use modern materials if the original has aged beyond repairing; then using products specifically produced for historic conservation.
We'll help you shop for replacement hardware at a retailer, as we have built vendor relationships across the Twin Cities. Our first option is to clean and repair it. When needed, it helps if we can take a sample with us or take a clear image that captures the hardware finish and the paint shade of the wood surrounding it. This will help you and or us pick out the replacement that best suits the antique door.
When working on old hardware, we prefer to use a traditional screwdriver rather than a power driver if we determine that it may protect the threads. Our priority is to provide homeowners with the best value and results. View this completed vintage front door restoration and painting project by our team of experts.
After Restoring Front Door Hardware On Victorian Home
After: Every homeowner should expect the same dedicated approach to the preservation and restoration of their home and a high-quality end product. To assure this standard of quality, William Nunn's painting work adheres to the criterion detailed by painting experts and This Old Housing recommendation gathered by over 30 years of experience. Original old exterior door hardware in older houses often begins showing its age over time and it is normal to need painting upkeep and renovation work. Over time reoccurring problems with the hinges, the doors staying shut, and door rosettes breaking are common. William Nunn Painting can also take care of interior painting needs for your historic Victorian house.
Historic Doors Naturally Settle Over Time
An older door goes through an aging process as distortions progress naturally, doors need to be adjusted to meet these changes. The essential wood components of your historic home's doors should be adjusted and correctly reshaped to fit snuggly and open and close smoothly just as they originally did. For markedly enhanced long-term efficiency William Nunn Painting experts adds updated weatherstripping to exterior doors as needed, and hidden door bottom sweeps for the exterior of doors.
Read more about our recent home restoration in the Southease Minneapolis Neighborhood and view photos of our work. Contact William Nunn Painting by calling 612 825-3875 to schedule a consultation.