Is it better to restore and paint a wooden home's siding or go with vinyl?
With much of historic carpentry craftsmen's shills replaced by machinery, these newer retailers, manufactures, and resellers have worked hard to put out the message that replacing your home's wood siding is a better choice. We take a unique look at a home's structural elements that deserve a long-term investment. With proper and scheduled exterior maintenance, keeping your home's wood exterior in shining condition provides a significantly better value.
Before Restoring A Victorian Home Paint Work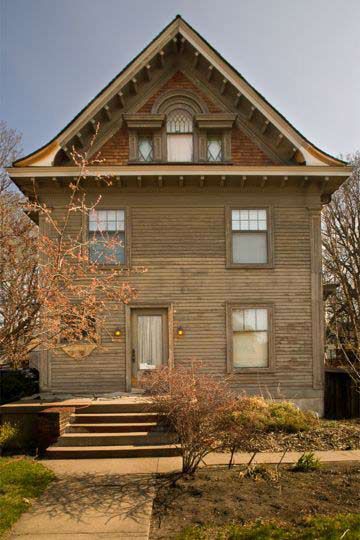 Before the restoration of this Victorian home to its original 19th-century heritage, the home's exterior was subject to weather elements and was waiting to be cared for and carefully restored. Knowing that painting your home preserves your home, the homeowners made the decision to hire experts in painting preservation work. William Nunn Painting began by helping them choose a paint color that would complement the home's original 19th-century elegance and time period.
Built in 1900, this was one of the prominent homes in the Southeast Minneapolis Historic District that had been painted long ago in just one color of paint. It is about to be transformed into seven carefully chosen shades of paint colors.
Is it more cost-effective to paint or put up vinyl siding?
If you go along with the saying that time is money, it helps to understand the value of hiring a professional painter over trying to restore wooden siding yourself. The time you save is a considerable gain. Also, you can regain the home's former glory. Homeowners who opt for siding are often limited to what's available on the market. At times that means waiting a lengthy time for a specific stock to come in. And then it has limited choices. When we paint and restore a home's outer surfaces, we have room to customize it to your tastes and period perfection.
With paint, color customization allows you to pick from a wider range of color combinations, giving you the opportunity to custom match any color. You don't have to worry about what's in stock or receiving the exact hue of your choice.
"Prices vary quite a bit. One of the primary factors comes down to the area where you live. However, Angie's List estimates that the cost of painting old siding is between $99 and $242 per 300 square feet. When you compare this to the cost of vinyl siding replacement, it can be as much as 60% less to paint your siding." – Universal Windows and Siding
The Excitment of Finding Quality Wood Siding Under Peeling Paint
The photos of this beautiful old Twin Cities show how the house was in poor shape cosmetically since it had fallen into a state of neglect for many years. The house was wanting of a homeowner who would restore it to what it was originally designed to be. William Nunn Painting was hired to restore the house back to its original splendor with as much accuracy as possible. Our experience with the Historic Preservation other previous Minneapolis homes paid off.
This house has its own special or unique architectural design or style. There are tons of similar-style houses from the same period around our lake areas. Many of them have been radically updated to such a state that they are now nearly indistinguishable from how they were crafted to appear. They merit their own respect alongside the grand Victorian homes which gain more attention. We thoroughly enjoy the restoration process of bringing the average house on the block back to life.
From the lighting to the house numbers to the door hardware, everything is beautifully restored to fit the period of its construction. Today, guests that arrive at the front door of this home find it most welcoming and appealing!
We believe that it is best to restore and paint wooden homes in most scenerios. Take a look at the results of this Minneapolis home restoration project; we're proud of it – and so are the homeowners. If you have a painting project and would like to enlist our staff, call 612 825-3875.
Removing Old Paint With Carbide Shaver & HEPA Vacuum
Preparing a wooden home's exterior includes safe and efficient cleaning of a home's wooden clapboard siding. Here we are removing the old paint with a carbide shaver and HEPA vacuum. There are several tools a professional painter can choose to use for safe paint stripping of older historic Minneapolis/St. Paul, Minnesota homes. We have found how efficient and safe it can be when using a sander that connects to Festool's HEPA vacuum. Dust and unwanted old paint particles are quickly removed from your home's wall and surrounding air space.
Paint can be beautiful – when a quality brand is chosen, the surfaces are correctly prepared, and the paint is applied in the best manner. If your home has the exceptional features of scallops and cedar shakes, a painted envelope adds unmistakable character and an instant boost in quality to your curb appeal. Best of all, when maintained, you can enjoy this charm and versatility for decades.
Call William Nunn Painting at 612 825-3875 to schedule your personal consultation.
Suggested Reading
Read more about how How we manage restoring and painting aged, wooden window trim.
Gain additional information about William Nunn and his team of excellent Painters. We are distinguished as being the only Minnesota certified painting contractor for Fine Paints.