Special Paint Finishes & Stains add to a Home's Personality
Special finishes in paint and plaster are features of some interior homes and require a specialized painter.
The interior painting work in this fine home is one example of the detailed preparation and application skills that are required to turn out exceptional painting results. Great interior painting services from start to finish are the hallmark of William Nunn's extensive experience providing special interior wall finishes in paint and plaster in some of the Twin Cities finest residential homes. We offer Twin Cities interior house painting services you can trust to meet your one-of-a-kind special paint finishes. Having completed house painting projects from simple to complex Faux finishes in Twin Cities homes, we welcome the privilege of making each home a showcase for its furnishings and unique features.
Special Paint Finishes & Stains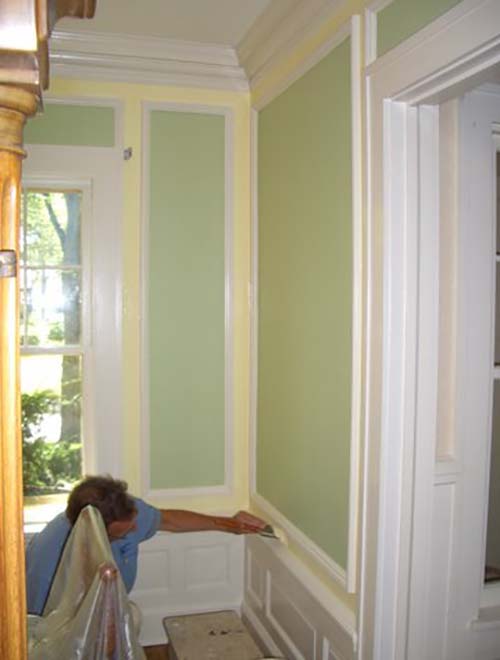 For many, choosing the paint color is the first decision. However, there's one more step to choosing your paint — which type of finish. Paint comes in various finishes. We can help you determine which finish is the best choice for your project before we break out the brushes and rollers.
Flat/Matte: Flat paints (also known as matte paints) provide the least amount of shine. They provide the most coverage of any other paint and require fewer coats to cover imperfections such as nail holes.
Eggshell: Eggshell finishes are the most often used paint finish. They're slightly more lustrous than flat paints, they still hide imperfections, and they're more durable than flat finishes.
Satin: Satin finishes are considered the most common interior paint finish. They have a velvetier sheen and are easier to clean than flat and eggshell paints.
Semi-gloss: Semi-gloss paints are shinier and reflective. They're extremely durable and mildew-resistant.
High-gloss: High-gloss paints are the shiniest paint finish choices. They're even more durable and washable, so they can handle daily scrubbing. However, prep work is extremely important when using this finish; it will let many imperfections be visible when applied incorrectly. View the stunning result of our work applying a high-gloss painted surface to kitchen cabinets.
Our painters take special care and thought of your home through every step of the painting process. Preparing before painting is begun is foundational for the results you are looking for. We know to work with plaster, what causes it to hold up for years or break down over time. Our paint specialists provide consultive guidance to help you select the perfect color, sheen, and brand that will work best in each application. We work with paint in creative ways to come up with solutions to turn the home design look you are seeking into a completed and stunning project. Our years of perfecting our expertise now offer the best customer experience that can cover your every interior house painting need. During your initial consultation, we answer your questions and covers a variety of different finishes of paint you can choose from.
Providing Commercial and Residential Interior Painting Services
William Nunn Painting contractors have been asked over the years to provide both commercial and residential interior and exterior special paint finishes and stains. to owners of Minneapolis and St Paul MN homes and commercial buildings.
From Fine Paints of Europe, common types of paint finish include:
Call 612 825-3875 and ask for William Nunn or use our Contact Form.