A fresh Coat of Paint Increases a Home's Curb Appeal
The right exterior paint can add thousands of dollars to a home's value. An effective use of color on the exterior of your home can add significantly to your home's curb appeal.
There was peeling paint on areas of the original redwood siding. William Nunn Painting carefully prepared and painted the trouble areas and made them look like new. After a full assessment, it was agreed that the easy way to improve the curb appeal of this redwood home was to prep and paint the Minneapolis home's exterior surfaces.
It may not even be necessary to paint the entire exterior of your home to create a fresh look. Adding color to a few of your home's key features, like the shutters in this home, add a tremendous sense of style. A matching painted front door makes an elegant statement; in this case, the exceptional windows in the front door add a timeless look that fits the period of the home.
Your Homes Curb Appeal Is Stronger Than Any Photo Can Be
Fixing peeling paint transforms a home to look new.
Artfully taken pictures can only do so much for your home when you list it online for sale. Great curb appeal is what is going to make your home stand out both on internet searches and especially when prospective home buyers drive by your home. Before they schedule a home showing, painting improves curb appeal for Twin Cities residential homes like nothing other can accomplish. No matter when spring officially starts in the Twin Cities, it's the preferred season for selling a home and typically when homeowners put their homes on the market.
Our professional expertise will guide the transformation of your home's exterior color palette with great ideas that have been proven to work. Many a Minneapolis home has dramatically benefited from our curb appeal improvements that begin with giving your home a facelift with a new paint color.
The right paint choices and quality paint application techniques add visual impact and long-term value to your home. A proven professional painting contractor has years of experience knowing how different painting application techniques impact your home's value.
All Exterior Surfaces Impact a Home's Curb Appeal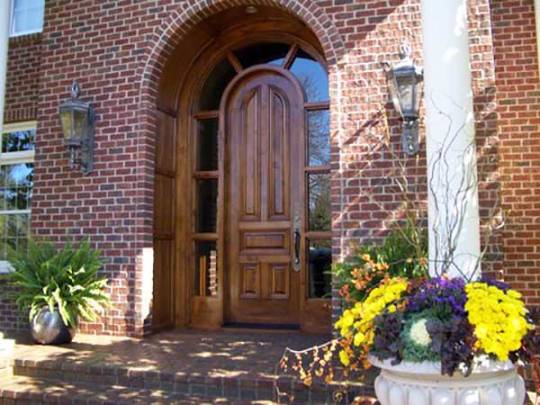 Improving your home's curb appeal includes refinishing your wooden exterior surfaces, like this door. It may be that you have painted front porch columns that add decor and function. Keeping your painted window sills with a fresh coat of paint may add the accent that a brick exterior needs.
Home maintenance and painting are essential to protecting the value of your home. It is easy to overlook what may seem like insignificant flaws when you are around them day after day. However, to a guest, home buyer, or someone walking in your neighborhood, those flaws may look like significant eyesores. In addition to being unsightly to your neighbor's eye, they could also be code violations.
Peeling paint, falling gutters, and rotted wood are some examples of what may visually detract from your home's curb appeal. More importantly, they leave the door wide open for pests, rodents, and unwanted moisture to enter your home's envelope.
William Nunn Painting will listen as you explain your concerns and then offer our professional opinion if requested, about additional ways we can improve your curb appeal. Sometimes, just repainting the trim of the windows, shutters, or doors with a contrasting color adds significant personality and visual appeal. Paint should be an appropriate color(s) for your home's period style, type, and neighborhood. Most paint manufacturers offer a vast selection of paint color charts/palettes. We've worked with almost all paint brands for over 47 years.
Curb appeal makes a difference to the bottom line. First impressions are everything. A house with curb appeal – one that appears tidy and well-cared for – not only makes a difference to the neighborhood but can make a substantial difference to the value of your home. In fact, a good first impression can add as much as 10% to the value of the home." – Norfolk, Va Government
Our skilled eye and experience will help you select colors that complement, harmonize, blend, and contrast well together.
Call 612 825-3875; we welcome the opportunity to discuss your home's wish list.